Introduction
Tactical leader, entrepreneur and an idea guru are just but a few words that can be used to describe Bryan Seiler, the CEO of TAGZ and the former CEO of Fitrova. Throughout his career, Bryan has had his fair share of achievements from an extensive sales career to launching his own blockchain-related ICO projects. What's more, as a business-driven individual Bryan has developed several businesses that he has either sold or retained, like his Blockchain SEO company Twilx Web Solutions. Bryan launched his first ICO back in early 2018, The Fitrova project which was set to revolutionize the health and fitness industry. He also recently launched TAGZ Exchange in March 2019 which has since risen to be one of the top crypto exchanges in the world as ranked by CoinMarketCap. Bryan Seiler is truly a go-getter and looks to make his mark on the Crypto and Blockchain space utilizing his toolbelt of skills he has equipped himself with over the years.
In this article, we are going to look at the Fitrova Project, its core concepts, progress and why it did not seed succeed.
The Fitrova Project
As described in the whitepaper The Fitrova Project was designed to serve the Health and Fitness industry in a way that had never been experienced. Fitrova looked to provide a platform where fitness and health organizations would come together and access clear and concise payment systems together with harnessing Blockchain technology to maintain accurate billing and membership details. Fitrova provided the following solution;
Provided a secure Blockchain Network where organizations and clients could interact and exchange information without the fear of data breaches.

An integrated Blockchain structure that kept precise record-keeping and secures against any fraudulent transactions.

A tracking system that would track each visit with an exact timestamp of entry and exit along with the location to trace where and when a transaction was initiated.

Fast, inexpensive and reliable transaction for members on the platform.
Key Progress of the Fitrova Project
Just a few months after its launch, Fitrova was quickly gaining traffic and attracting a lot of widespread attention. Despite its short lifespan, the Fitrova project had made several successful achievements which can be attributed to the following;
Fitrova was a Revolutionary Project
The Health and Fitness industry is one of the most diverse industries and spans across the globe. However, the industry is relatively slow in terms of Technological adoption. With over 80 billion US dollars in revenue per year, the Health and Fitness industry is one of the largest sectors in the world. However, it is fragmented without any particular chain or platform to connect the involved parties. With Fitrova, a solution to this problem had been developed.
The Fitrova Team launched a platform that would provide a platform through which the involved parties would interact in a cheap, inexpensive, reliable and efficient way.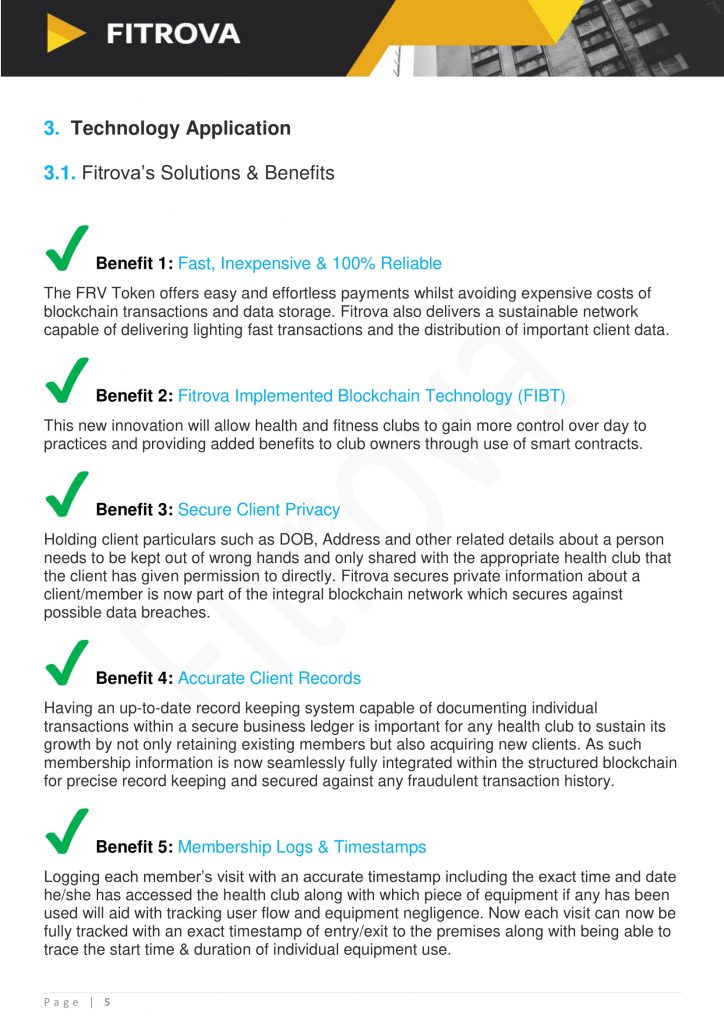 Just like any other start-up, Bryan took his time to develop and build the Fitrova project from nothing to what it was (before the FUD got involved). He was really passionate about his project and worked at it tirelessly to ensure its success. He was involved in all areas of the project from development, marketing, sales, networking, and cold pitching among other duties. Additionally, he occasionally outsourced some of the minor tasks to freelancers to ensure that all tasks were completed on time when it was overwhelming for him.
Fitrova Platform Had Ongoing Gym Partnerships
Fitrova, though quite young to space, had got the attention of several gyms who were interested in the platform. Bryan had acquired several clients and there were ongoing negotiations for potential partnerships. He had been able to bring onboard willing gyms that were looking to joining the Fitrova platform as shown below. However, the partnerships were under a one-way NDA that did not allow the involved parties to disclose information on the ongoing deal.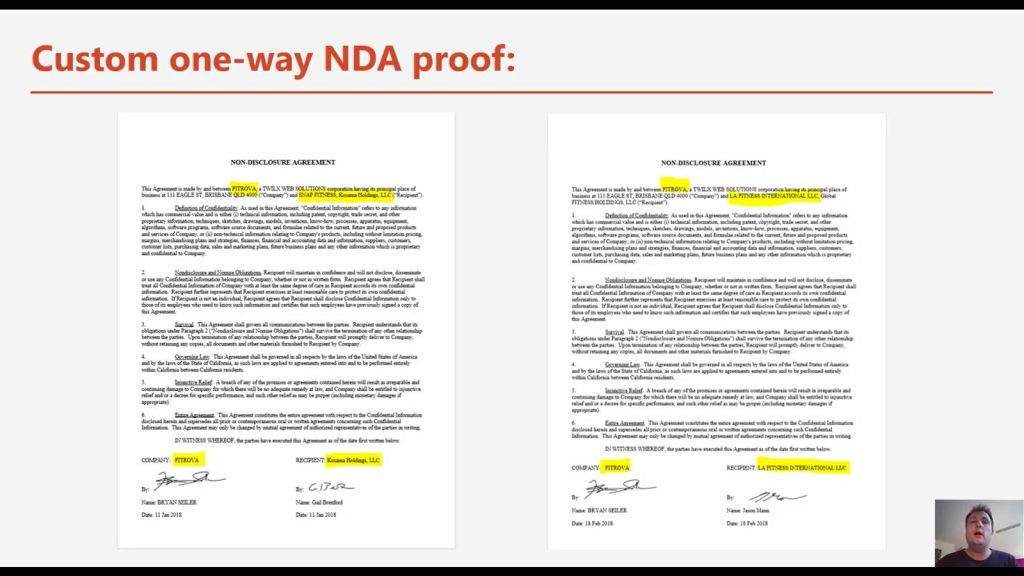 (One-Way Custom NDA Proof from the Fitrova Project)
Fitrova was Able to Raise Funds for the Project
Fitrova ICO was able to raise $217,000 collectively which helped run the project and bring it to speed.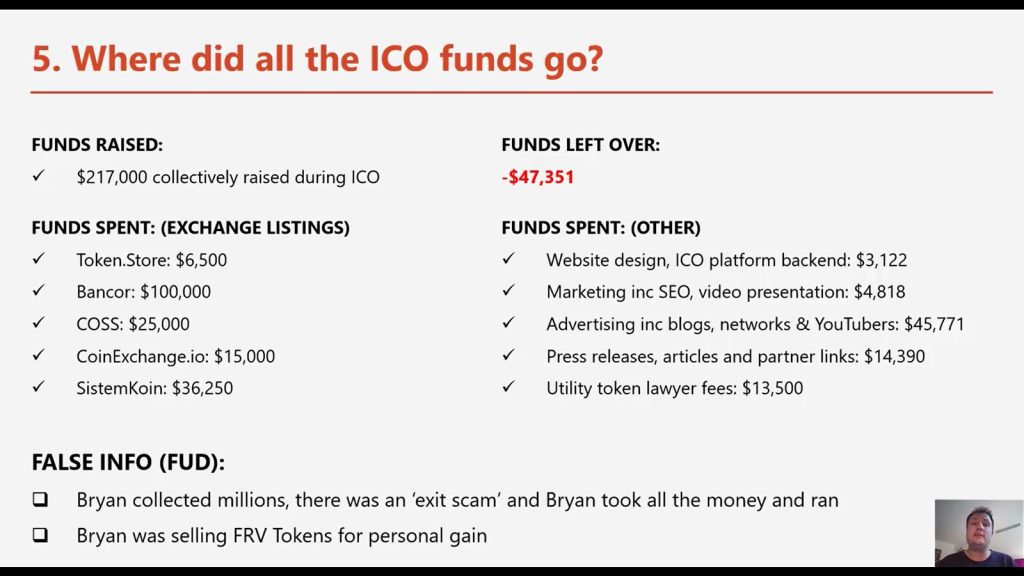 As seen above the raised amount was used to run the business to a point where it was in debt. During which Bryan was forced to input more funds into the ICO. Additionally, some of the funds were used for exchange listings like the example shown below;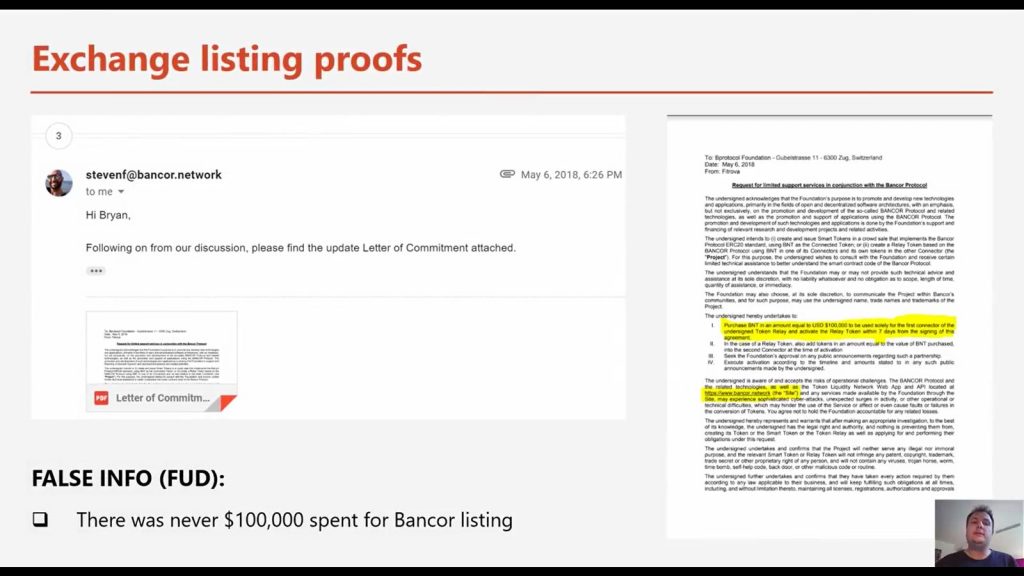 Bryan's Identity was Verified by ICOBench
The KYC process is one of the best ways to verify an individual's identification. Bryan had verified himself using ICOBench, a free ICO rating platform, and a Blockchain community. That had been vetted by legal, analytical and technical experts. This enhanced his trust with his investors and partners who saw the potential in his project as he did.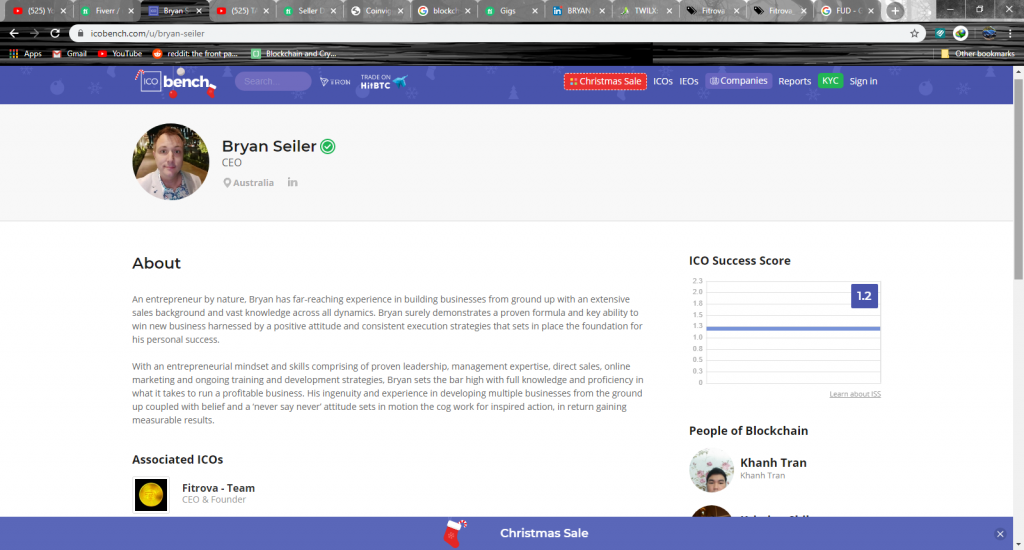 The FUD Group and Their Effect on Fitrova
Despite the early success and potential growth of the Fitrova Project, it did not see the light of the day due to a FUD group that was set out to destroy the project. The attack was launched on nearly all of Fitrova's social media accounts
Telegram
The attack was led by a person with the initials KJ who hacked Bryan's account deleted the official Fitrova account and created his own Telegram groups. Initially, Bryan runs his account with 3 admins and their platform was called @fitrovachat which was their official account. However, the attackers went ahead and launched two groups; FitrovaSupprotGroup and FitrovaConnect which they used for their unethical dealings such as; spreading false information and running down FRV prices for their own personal gains. The FUD group also posed as employees of Fitrova claiming that Bryan did not pay them.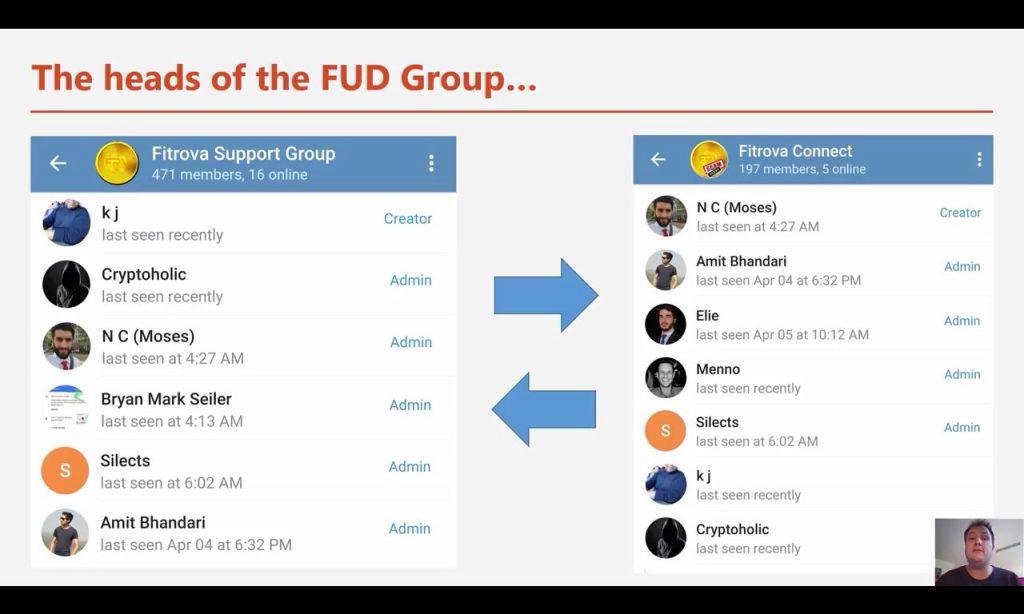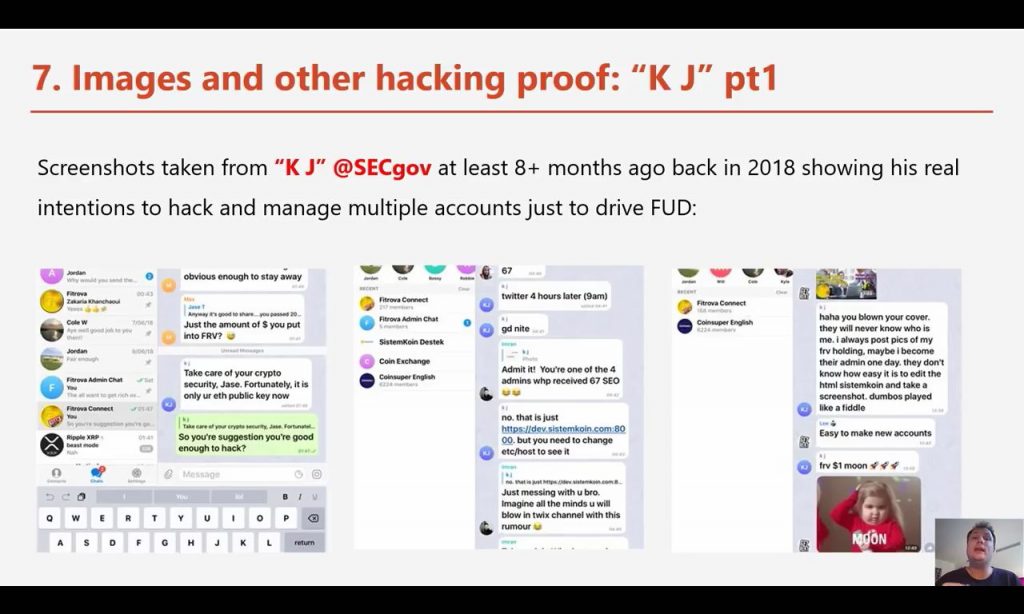 Further to this escapade, the FUD team came into existence because Bryan listed the Fitrova FRV token on the COSS.io exchange from which a handful of members took offense too and then began to recruit others to join their 'FUD Group' in now a successful attempt to have the Fitrova delisted from exchanges.
The FUD group not only created fake Telegram accounts to pose as fake employees of Fitrova but also created accounts to mirror Bryan's official personal Telegram account too. The FUD group took things way to far and it was like they just enjoyed seeing everyone's hard-earned invested money go to zero and enjoyed seeing all the suffering that Bryan was going through.
Here are some images from Telegram that show Bryan in the picture and user BUT this is only just 1 of many examples where the FUD group were the ones behind the true identity of the account and it was not the real account of Bryan whatsoever: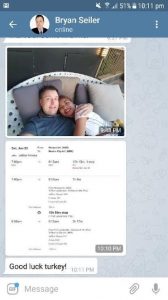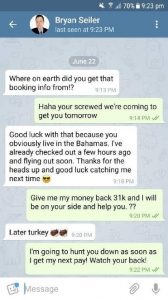 These above images have been proven not to be the real account of Bryan whatsoever and were merely another vengeful tactic of the FUD Group to discredit Bryan and the Fitrova project. Please see below proof from the real account of Bryan (Admin symbol is showed on his message which shows the legitimacy).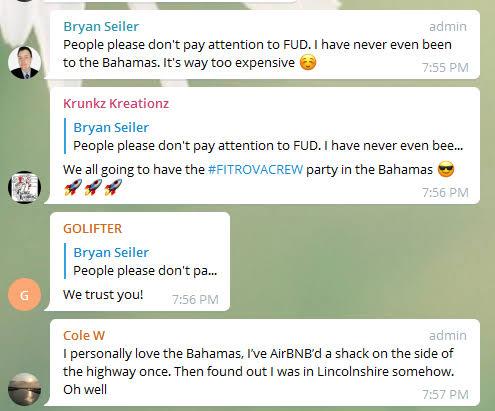 Twitter
Their official Twitter accounts were also hacked and false information was spread on the platform. During the launch of Fitrova Bryan had hired a Twitter Account handler (Simon Lasham) who after some time changed into a scammer. He went on to change the registered email address along with the account passwords denying any of the team members running the Fitrova project from accessing the account. The scammer proceeded to blackmail Bryan demanding ransom which Bryan did not agree to pay. Simon also used the account to spread false information about the Fitrova Project. The old Fitrova twitter account is still owned by this same scammer today!
Fake Reviews
The FUD group also created fake reviews about the project looking to run it down. The FUD group was also targeting Bryan's other company Twilx but they did not succeed. This was because before the FUD group started their endeavors, Twilx had already gained positive reviews from its happy clients.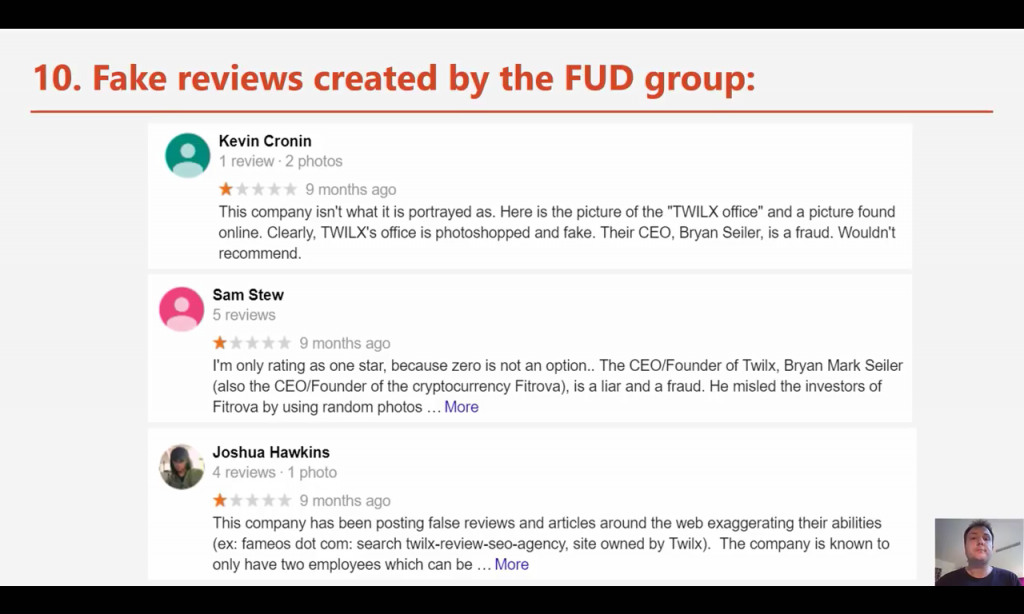 Conclusion 
Despite the failure of Fitrova, Bryan took the whole ordeal as a massive learning experience and used this to his advantage by coupling together his ingenuity in developing multiple businesses from the ground up and his 'never say never' positive attitude, which motivated him to launch his second Blockchain project which has now become the number 1 largest Crypto Exchange in the world that is used by hundreds of thousands of people on a daily basis.