Coronavirus Outbreak Live Map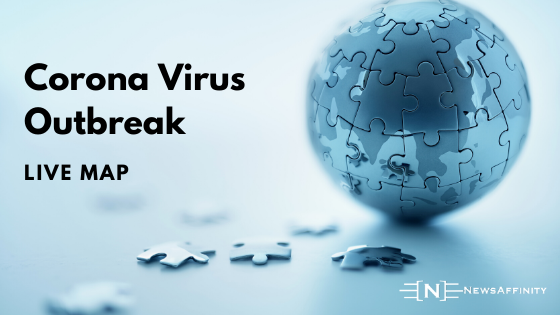 "The coronavirus is primarily a respiratory illness, and it typically spreads via airborne droplets from an infected person's coughs or sneezes"

How did the Coronavirus start?
The source of the coronavirus is believed to be a "wet market" in Wuhan which sold both dead and live animals including fish and birds.
Such markets pose a heightened risk of viruses jumping from animals to humans because hygiene standards are difficult to maintain if live animals are being kept and butchered on site. Typically, they are also densely packed.
The animal source of the latest outbreak has not yet been identified, but the original host is thought to be bats. Bats were not sold at the Wuhan market but may have infected live chickens or other animals sold there.
Bats are host to a wide range of zoonotic viruses including Ebola, HIV and rabies.
What is a coronavirus?
Coronaviruses are a family of viruses that cause disease in animals. Seven, including the new virus, have made the jump to humans, but most just cause cold-like symptoms.
Two other coronaviruses – Middle East respiratory syndrome (Mers) and severe acute respiratory syndrome (Sars) – are much more severe, having killed more than 1,500 people between them since 2002.
The new virus, officially called Covid-19, is also dangerous – so far, around 20 per cent of confirmed cases have been classed as severe or critical. So far, around 15 to 20 per cent of hospital cases have been classed as "severe" and the current death rate varies between 0.7 per cent and 3.4 per cent depending on the location and, crucially, access to good hospital care.
This is much lower than fatality rates for Mers (30 per cent) and Sars (10 per cent), but still a significant threat.
Scientists in China believe that Covid-19 has mutated into two strains, one more aggressive than the other, which could make developing a vaccine more complicated.
How long does coronavirus last?
As the coronavirus outbreak continues to accelerate in the U.S., cleaning supplies are disappearing off the shelves and people are worried about every subway rail, deli counter and toilet seat they touch.
But how long can the new coronavirus linger on surfaces, anyway? The short answer is, we don't know. A new analysis found that the virus can remain viable in the air for up to 3 hours, on copper for up to 4 hours, on cardboard up to 24 hours and on plastic and stainless steel up to 2 to 3 days.
The NIH researchers compared the new coronavirus' lifespan on surfaces to that of the SARS coronavirus. They found that both coronaviruses lived the longest on stainless steel and polypropylene, a type of plastic used in everything from toys to car parts. Both viruses lasted up to 3 days on plastic, and the new coronavirus lasted up to 3 days on steel.
How many people have died from coronavirus?
All over the world:
coronavirus cases: 146,351
Deaths: 5,443
Recovered: 72,572
Source: WHO, CDC, NHC, AND DINGXIANGYUAN, VIA JOHNS HOPKINS UNIVERSITY
Recent Tweets On Corona Virus
Twitter feed is not available at the moment.
Latest Updates On Corona Virus