OSU GPA Calculator – Ohio State University

What GPA do you need to get into Ohio State University?
With a GPA of 3.78, Ohio State University requires you to be above average in your high school class. You'll need a mix of A's and B's, with a leaning toward A's. If you took some AP or IB classes, this will help boost your weighted GPA.
How to use OSU GPA Calculator?
Grade points are calculated using your letter grade on a conversion scale. For instance, at most schools an A+ grade equals 4.0 grade points while a B- grade equals 2.7 grade points. The weighted average of these numbers gives us your GPA.
[all_gpa_calculator]
Values per Grade
[ninja_tables id="3033″]
OSU GPA Calculator tool can be used to calculate your current semester grade point averages (SGPA) and cumulative (CGPA) grade point averages.
To calculate OSU GPA for the current semester enter the number of course credits and grades in the rows respectively in the This Semester and click the Calculate button.
About
Ohio State is a highly rated public university located in Columbus, Ohio. It is a large institution with an enrollment of 42,003 undergraduate students. Admissions are fairly competitive as the Ohio State acceptance rate is 48%. Popular majors include Communications, Psychology, and Finance.
Will You Get In?
Test Scores and High School GPA for Ohio State University
√ Accepted
⊗ Rejected
◊ Considering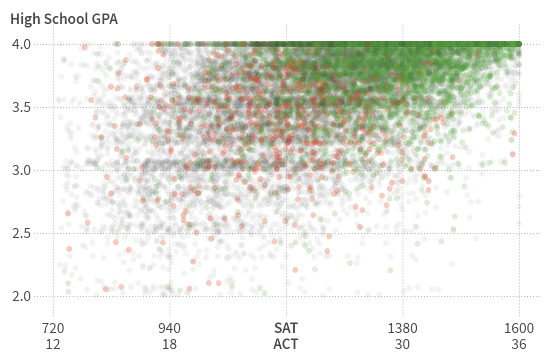 Admissions
Acceptance Rate
Application Deadline
Multiply the credit hour value of each course by the point value of the grade you received. Add up the credit points you have earned in all your courses. Divide the total credit points by the number of credit hours you have attempted for a letter grade.
Criteria for qualifying for the list varies by college, but most require a minimum of 12 graded credit hours with a 3.5 GPA or higher. In addition to the dean's list, the university has issued the list of students who earned degrees at commencement on May 6, 2018.
The grade point average (GPA) for a single term or overall (cumulative), is calculated from merit points earned divided by graded credits. Add all the merit points together and divide the sum by the total number of units the courses in your major are worth.