After 2014, cryptocurrencies, digital coins, tokens – whatever one may call it, began to appear like mushrooms after a summer rain. Six years later, their total amount exceeds 2000 – a wide variety, to say the least. However, even among such an abundance, Bitcoin, the forefather of all cryptographic means of payment, still remains the most dominant player, occupying more than 66% of total market capitalization.
The alternatives to Bitcoin
But as we all know, the oldest or the most recognizable doesn't always mean the best. So the question is, whether or not Bitcoin still remains the superior cryptocurrency, or have other blockchain-based money already bested it?
While the definition of "superiority" differs from one crypto enthusiast to another, Bitcoin is undoubtedly the most recognizable and accepted cryptocurrency of all. Retailers, employees, payment gateways around the world prefer BTC to hundreds of other coins, which are collectively known as altcoins.
Without going into specifics, let's just say that there are enough altcoins that could be somewhat better than Bitcoin from the technological standpoint, although they all have been derived from the core technology – the blockchain – different varieties of which stemmed from the one incorporated in the first cryptocurrency.
Some altcoins offer better transaction fees; others are more scalable or serve other purposes than the transfer of funds. The cryptocurrency market is still young, so who knows, maybe some of the altcoins from the list below would eventually push Bitcoin off its throne.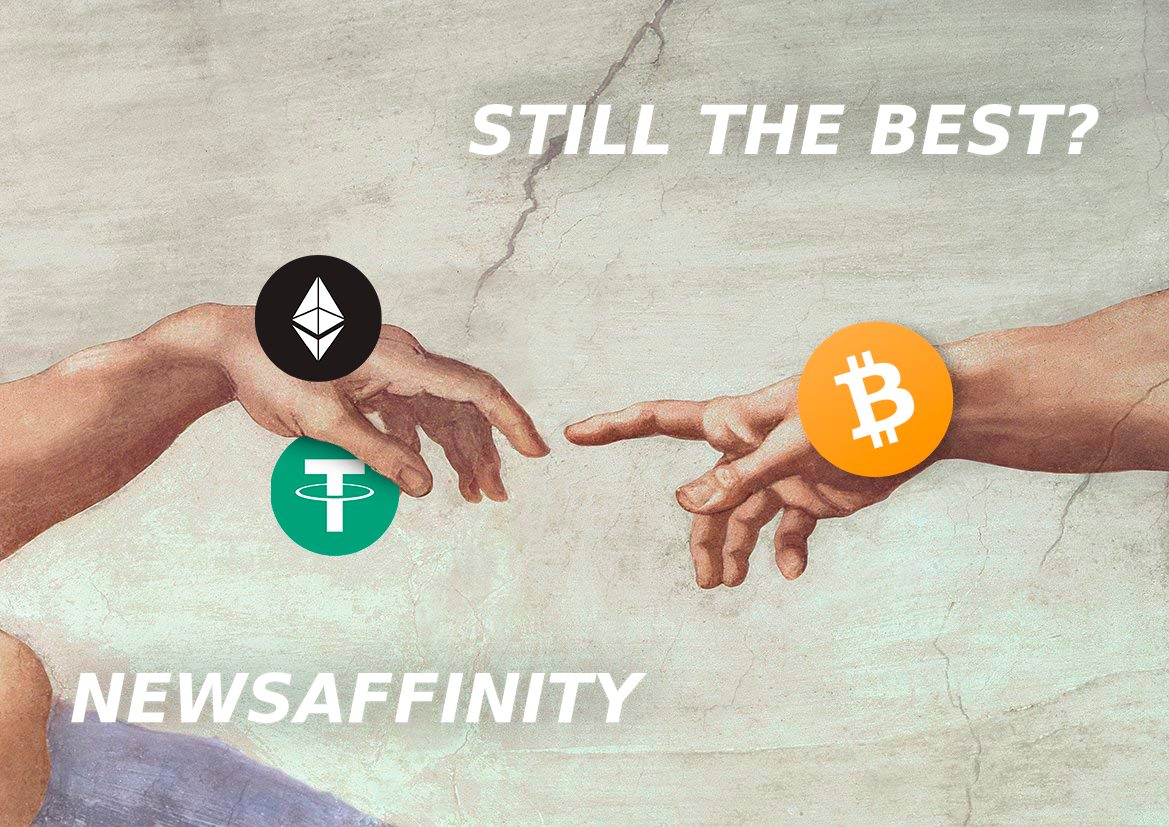 The top rivals of Bitcoin
Ethereum (ETH)
Ethereum is a lifeblood of the eponymous blockchain ecosystem that is far more feature-rich than that of Bitcoin. It offers a platform for the development of decentralized applications (dApps) and is also capable of generating and managing the protocols for digital contracts, which are referred to as "smart." ETH is currently ranked 2nd after Bitcoin and has a market capitalization of $20,7 billion.
Ripple (XRP)
XRP is considered by some experts as the best cryptocurrency for domestic and international payments. Ripple offers a solution for instant, secure, and cheap transactions that should help the unbanked people around the world to get access to the global financial system and its money transfers. It is also important to note that XRP is an eco-friendly coin since the method of its obtainment doesn't require such an electricity-hungry process as mining.
Bitcoin Cash (BCH)
Bitcoin Cash is an offspring of Bitcoin which branched out from the original blockchain. In technological terms, BCH is a hard fork of BTC. Although being structurally similar, Bitcoin Cash has several advantages over Bitcoin, for instance, its higher transaction speed, achieved due to the larger block size – 8MB compared to Bitcoin's 1MB.
Litecoin (LTC)
Also known as Digital Silver, Litecoin emerged as a brainchild of computer programmer Charlie Lee. Essentially, LTC is nearly identical to Bitcoin in terms of its system architecture. Although the 7th cryptocurrency provides for an expedited block generation, smaller fees, and shorter period of transaction confirmation.
USD Tether (USDT)
USDT represents a newly-established class of cryptocurrencies called stable coins. The name is derived from the core concept behind Tether, according to which the value to the coin is pegged to that of the United States Dollar, thus not being influenced by immense volatility that is still characteristic of the cryptocurrency market. Despite being a young cryptocurrency, USDT already constitutes an overwhelming share of the cryptocurrency market.
To summarize, the crypto space has become so varied over the years that it's already hard to tell whether some coins are better than the others, especially when it comes to their fundamentals. But the fact remains that Bitcoin is still the dominant cryptocurrency, and will remain such in the foreseeable future.
And to make sure you have confidence in the future, 1xbit platform offers over 20 cryptocurrencies to choose from for storage, withdraw and, if you're a bit lucky, multiplication. You can choose between sportbook and casino to have fun. Registration is quick and simple, but make sure you saved your data in case you don't want to lost your savings.