COVID-19 pandemic is taking a heavy toll on humanity across the world. India, too, is suffering. But India seems to be doing much better than many countries in spite of her limited resources and a huge population. What is India doing better or different than others?
Nationwide stringent lockdown seems to be the most obvious answer.
But, is that all? Why is it that barring some incidents of unrest among the migrant labors for going back to their native places and also some cases of lapses in supply of food materials, people in general, even those who live on daily income, do not seem to be very agitated? What could be the reason?
The answer lies partly in a slew of measures announced by the Central Government under PM Garib Kalyan Yojana (PMGKY) as also many relief programmes announced by different state governments. Among those relief measures, providing cash in the hands of the poor to enable them to tide over this situation is perhaps the most important one. For example, 8.7 crore farmers have been paid Rs. 2000 each in the month of April, 20.40 crore PMJDY women account holders are being paid Rs.500 per month for three months, around 3 crore aged widows and people in Divyang category are being given Rs.1000 per month for three months, 13.62 crore MNREGA workers will benefit from increased wages to the tune of Rs.2000 per month, etc. This money is being transferred to the accounts of beneficiaries through Direct Benefit Transfer (DBT).
But, of what use is the money lying in bank account that cannot be withdrawn due to lockdown?
To withdraw their money, people in far flung areas go to the nearby Customer Service Points (CSPs), aptly called Bank Mitras, of the Business Correspondents (BCs) of various Banks because travelling long distances to reach a bank branch is not feasible in these times of lockdown. Also, Bank Mitras operate for longer hours, from early morning to late in the evening.
The Business Correspondents and their Bank Mitras (CSP Operators) are doing yeoman service to the nation and the people at great risk of their own life in these times of extremely contagious pandemic. Recently, the Finance Minister, Mrs. Nirmala Sitharaman, appreciated their work through her tweets.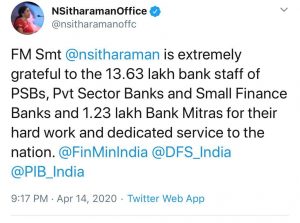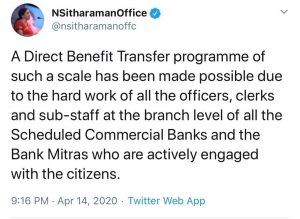 In fact, Minister for Communications, Electronics and IT, Mr. Ravi Shankar Prasad, also tweeted his happiness over India Post Payment bank doing a record 1.09 lakh transactions worth Rs. 22.82 crore a couple of days back.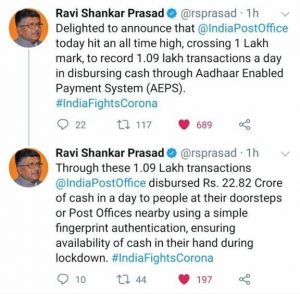 These are indeed landmark achievements, given the strict enforcement of lockdown and fear of virulence of COVID-19. There have been many instances of local administration creating problems or even arresting the Bank Mitras in spite of this service being exempted from lockdown as an essential service.
Mr. Ketan Doshi, MD of Pay Point India, a leading BC of the country, said," Our CSP operators (Bank Mitras) are providing excellent service to the people in remote and very difficult locations while maintaining Social Distancing norms and proper sanitation and hygiene. It may sound simple but it is very difficult to actually practice Social Distancing and hygiene in the field when so many people want to withdraw their money quickly and go back to the safety of their home."
Mr. Doshi also informed that Pay Point India has been making approximately 1.15 – 1.25 lakh payments amounting to approximately Rs. 20 – 25 crore every day since April 2nd. Till date, over 15 lakh beneficiaries have withdrawn their money through Pay Point India outlets. Throughout the country, out of their over 42,000 outlets, Pay Point India has around 12,000 outlets that provide banking service for withdrawal from bank accounts. A very large number of these outlets are situated in extremely difficult locations of almost all the states.
Praising the farsightedness of the government, Mr. Doshi said, "Without the immediate and timely monetary support to the poor and needy by the government and its efficient and immediate payment through the Bank Mitras deployed by BCs, the fight against COVID-19 through nationwide lockdown could have resulted in nationwide pandemonium. The role of Bank Mitras in the success of lockdown has been crucial and cannot be overemphasized."