WordPress is the most popular CMS platform, with millions of new users getting registered yearly. 
As per stats, the CMS is available in 196 languages, it is searched 2,940,000 times monthly, and it is visited more than Twitter.
Considering all these stats, it is not surprising that WordPress is the most targeted website by hackers. In 2018, it accounted for 90% of all hacked websites.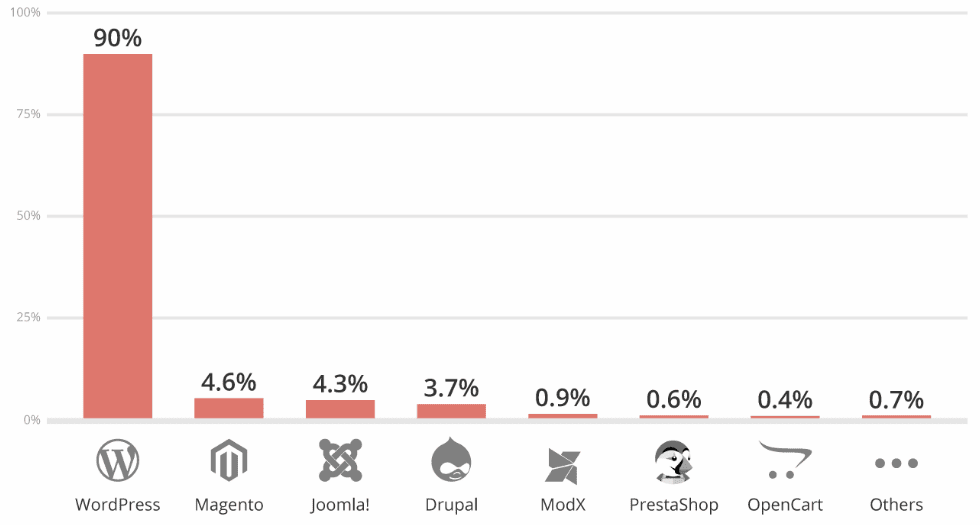 So, if you are a WordPress website owner, you should take security seriously and implement measures to beef it up.
To help secure your WordPress page, here are the five crucial tips you can follow. 
Remember, implementing only one or two security measures will not guarantee that your web page is secure. You will have to keep up with the ever-evolving internet security protocols and incorporate them.
Keep your WordPress website updated
In a survey, it was found that out of the 40,000+ WordPress CMS in Alexa top 1 million, over 70% of the installations are susceptible to hacker attacks.
There are several versions of WordPress, and many of them are invalid. Take the WordPress version 6.6.6, for instance. 
The invalid WordPress versions are vulnerable to exploits, and hackers can easily detect those using free automated tools within a few minutes.
It is thus crucial to pick the right WordPress hosting provider that has auto-update features and will update both plugins and WordPress. Note that the WordPress platform keeps changing constantly. And by using the latest version, not only can you beef up security but also avail the best features for better user experience.  
Install an SSL certificate
You must have noticed the "Not Secure" warning sign that Google Chrome shows whenever you visit an insecure page. It looks like:
Google Chrome started giving out this warning, starting in October 2018, for websites that are not secured by an SSL certificate. This warning indicates that the site's data is vulnerable and could be stolen, read, or modified by hackers and entities that have access to internet infrastructure, such as Internet Service Providers.
To avoid such threats, installing an SSL Certificate is crucial. There are different types of digital certs that you can obtain depending upon your business requirements.
For instance, installing an Extended Validation Certificate, which is the highest-ranking SSL certificate type, can display the padlock, HTTPS, name of your business, and the country on your browser address bar, implying to visitors that your site is secure. Many e-commerce businesses that store payment information on their site use this cert to gain customer trust.
Moreover, implementing an SSL certificate can also benefit you in terms of SEO as Google had announced in 2014 that HTTPS would be counted as one of the ranking signals.
Set up a WordPress Intrusion Detection System (IDS)
If you set up a WordPress Intrusion Detection System (IDS) software, you will be notified whenever a hacker is trying to detect a security hole on your website. The system will also notify if your website gets hacked.
It is beneficial because the sooner you are able to detect a hack attempt, the sooner you can prevent the attacker from stealing your data.
Even in a post-hack situation, if you identify it soon, you will be able to limit the damage and recover your WordPress website more easily.
For instance, if a hacker tries to scan your website for vulnerabilities, you will get notified instantly via SMS or email. You will also be notified during a WordPress login page brute force attack where hackers try to guess your WordPress usernames and passwords by implementing automated software. Or the system will detect and notify you whenever an attacker generates a new WordPress user and successfully logs in to your website.
Firewalls are specifically designed to defend the network from incoming internet attacks. You can also use it to regulate who can access the internet. Many people these days use WiFi routers in their homes. In that case, the router becomes their home's firewall. Almost all modern home Wi-Fi routers come with a built-in firewall.
While web application firewalls can safeguard a site from malicious attacks, a WordPress firewall is specifically designed to defend WordPress. Once you install it, it will operate between your site and the internet to examine the entire HTTP requests that your site receives.
In case it receives an HTTP request with a malicious payload, the WordPress firewall will disconnect the link.
Enable two-factor authentication
Starting in 2013, WordPress CMS has enabled two-factor authentication to help protect your account from attackers. When you enable this feature, you will receive a password and a time-sensitive code via your mobile device or an independent mobile app.
To enable it, simply tap your profile picture and navigate to the Me section. Next, click on the Security tab and hit on Two-Step Authentication. You can set up the feature from there.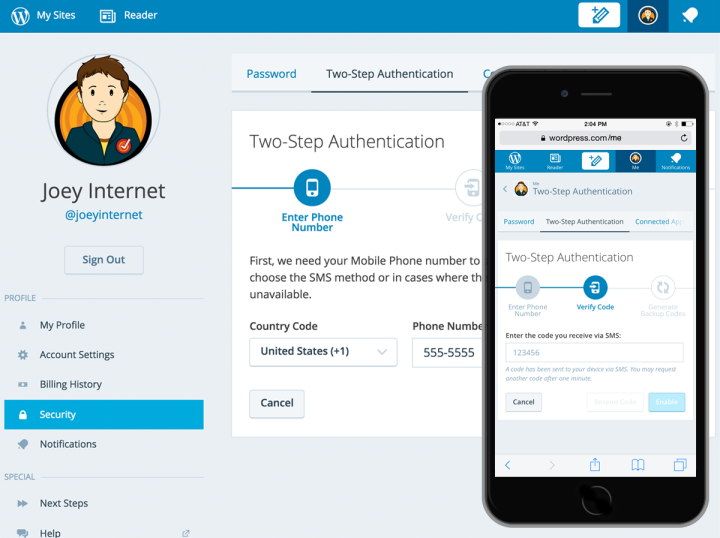 Wrapping Up
Though WordPress is the most used CMS, it is notorious for getting hacked or targeted by malicious hackers. Make sure that you implement the five crucial tips mentioned in this article to beef up your security and gain the trust of your visitors while offering a better user experience.
However, no website can be 100% secure. You will have to keep yourself updated with the latest security measures and implement them. Also, setting up WordPress Intrusion Detection System can come handy in instances when your site gets hacked.