The most popular tool for video editing "InVideo" with AI-powered IVA (Intelligent Video Assistant) becomes #1 product of the month on Product Hunt. 
Speaking to BBN Times, Sanket Shah (Co-founder and CEO) shared,
InVideo was the #1 Product of the Week and #1 Product of the Month with an overwhelming number of upvotes and raving reviews. Product development at InVideo is customer-driven — our objective with the Product Hunt launch was to invite feedback from the community. InVideo was well received by the PH community because it is an all-in-one video creation tool, unlike its competitors that are one-trick pony (single purpose) video apps.
On 19th Feb 2020, InVideo got highlighted on Product Hunt. Besides this, they reported it as social video creation to make video advertisements, promotion videos, social media videos, etc. It comes with a broad template library of over 1700 + templates, a complete editor, a huge number of stock videos and images, effects etc.
Product Hunt listing pulled in ~3700 upvotes and ~480 comments. Out of these ~200 were user reviews. Obviously, InVideo is the top best-reviewed product on Product Hunt in its category. 
Consistently, all reviews of InVideo on Product Hunt observed the application was perfect in customer service, community support, simple creation of video for social media, promotion videos, video advertisements and intro/outro videos. 
The founder of the startup 'Sanket Shah' and Growth Hacker 'Rohan Chaubey' answered many reviews and feedback in comments ensuring everyone feels heard thereby demonstrating the culture of customer-centricity.

InVideo's positive reviews were not limited to the Product Hunt platform as many Product Hunt users took to Twitter to refer InVideo to their friends and applauded the InVideo's launch video.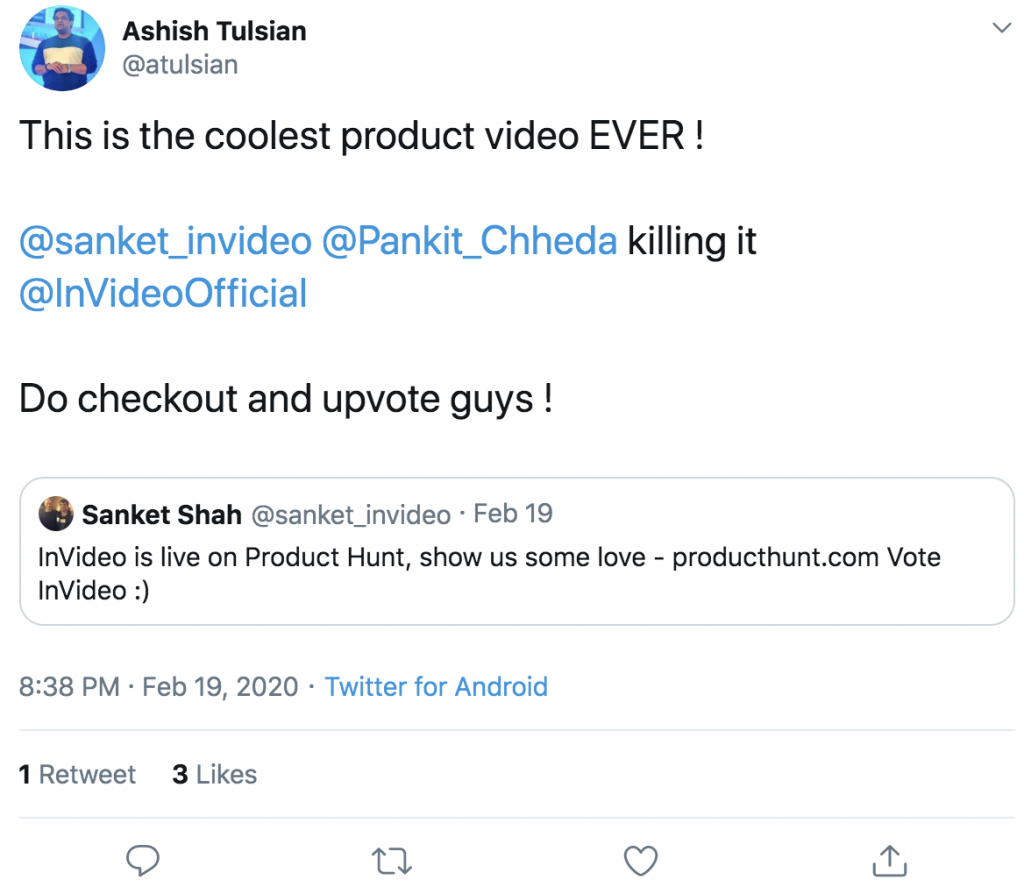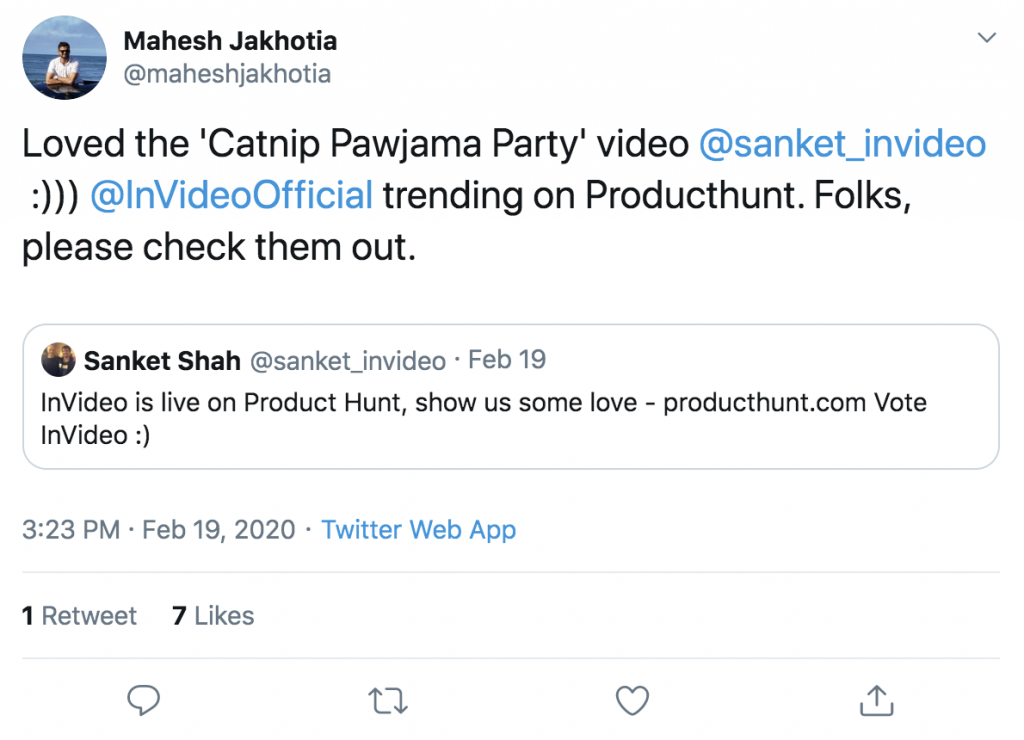 San Francisco headquartered organization raised $2.5M funding. Presently, it has more than 100,000+ app users across 150+ nations making over 220,000 videos monthly. 
Moreover, InVideo is the product that is sold the most in AppSumo history. AppSumo is a lifetime deals site that generally offers SaaS products. 
Top review by celebrated Growth Hacker Rohan Chaubey outlined some pros as well as cons of the app. 
Pros
Drag and drop video components (pre-built)

More than 2000+ video templates

Fast as well as a cooperative support team

Supports videos in multiple languages 

Intelligent video assistant

Capability to add limitless team members
Cons
Mobile application not available yet
The founder said mobile applications both android and iOS versions are on the way. 
The platform is quite popular among agencies, marketers, freelancers, publishers, large organizations like Sony Music, CNBC, CNN and Reuters. 
According to G2Crowd, one of the largest business software review websites, InVideo was highest positively rated against its competitors including Filmora, Final Cut Pro X, and Adobe Premiere Pro.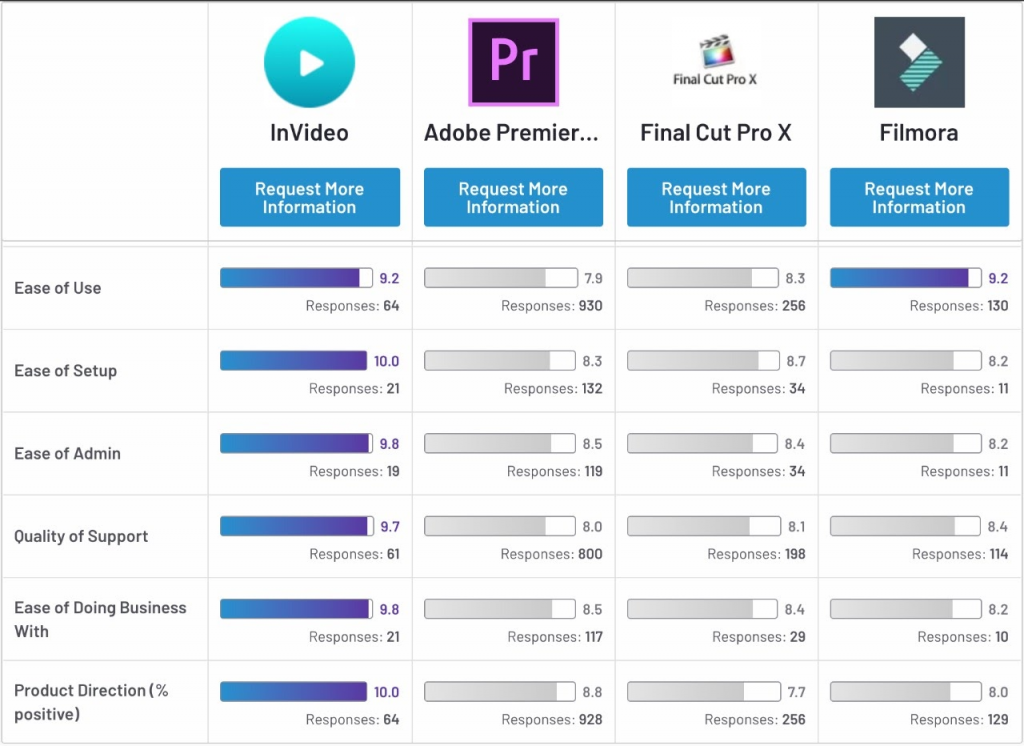 InVideo has received recognition as well as an endorsement from likes of Mari Smith, Neil Patel and more. This startup appears to have an exceptionally promising run in 2020 and beyond.