Featuring 70+ speakers to share their knowledge and expertise on the changing face of the banking sector though innovation and technology developments, the 14th Edition of the Middle East Banking Innovation Summit (MEBIS 2023) once again reinforced itself as being the leading banking technology event in the Middle East region bringing together the shining minds of the industry! The summit took place on the 17th & 18th May at the Jumeirah Emirates Tower, Dubai, UAE.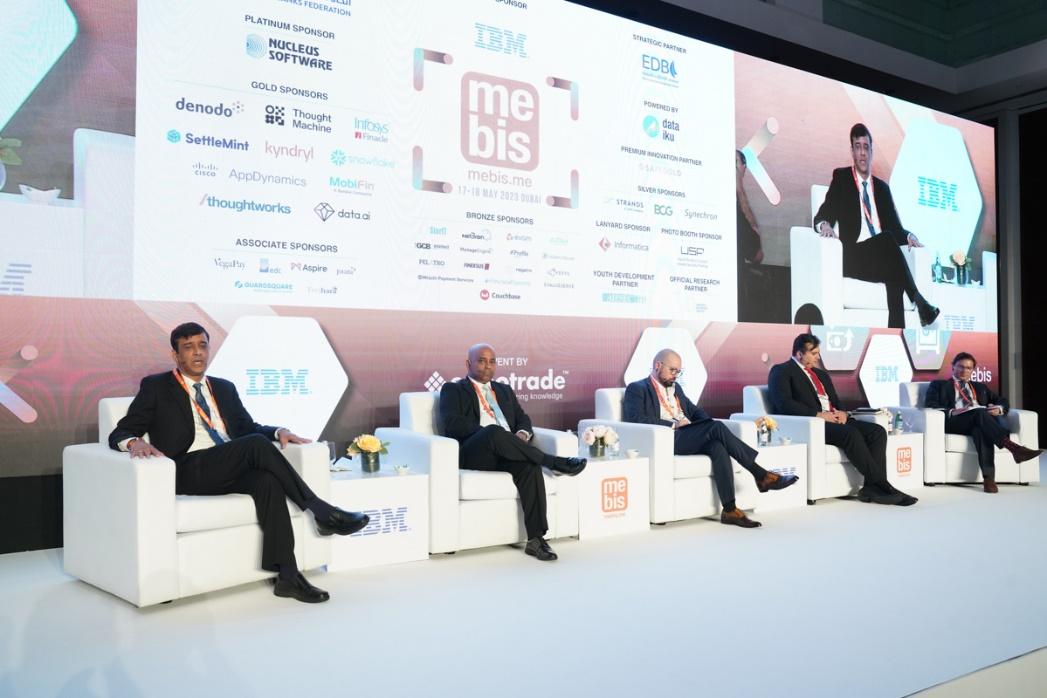 The focused agenda began with a Welcome Address by Jamal Saleh, Director General of the UAE Banks Federation, the official supporting partners of MEBIS 2023, following which, Saad Toma from Title Sponsor IBM also delivered opening remarks.  An interactive fireside chat took place between Srinivasan Sampath from First Abu Dhabi Bank and Liaquat Parkar from IBM, which highlighted First Abu Dhabi's digital evolution and cloud strategy, after which, Ahmad Abu Eideh of Invest Bank, UAE gave a talk on exploration of new revenue engines and capabilities from a MENA banking leadership perspective. 
During the second fireside chat of the day, Nidal Khalifeh from Jordan Ahli Bank, Sean Langton of Abu Dhabi Commercial Bank and Liam Leahy from Thought Machine came together to discuss innovating for greater revenue and enhanced capabilities.  The attendees then listened to keynote presentation by Andrés Bernad, IBM Consulting, who shared the 2023 global outlook for banking and financial markets, and Bharani Subramaniam of Thoughtworks presented his talk on moving beyond digital transformation to build digital banking multichannel solution platforms.
Next up on the programme, we welcomed the CxO panel discussion where Tim Jennings of Synechron led the discussion on exploiting capital in the new economy with next gen technology.  The panellists included Ayman Alqudsi of United Arab Bank, Bart Pietruszka from HSBC, Noman Rasheed from Dubai Islamic Bank amongst others.  Ashwani Arora from Nucleus Software was up next to the stage to give his keynote presentation on alternative yield opportunities in private markets, and Sid Bhatia, from Dataiku took us up to the morning break with his talk on the power of everyday AI.
On returning to the conference room, delegates were treated to a lively discussion on data in the digital era & powering the future:  advance analytics, RPA and artificial intelligence, moderated by Rajat Prakash from Dataiku and featuring insights from Atul Chandorkar of Qatar Islamic Bank, Bruno Ascencio Bautista from WIO Bank, Gyan Prakash Srivastava of Mashreq Bank and Mehreen Zakaria from Citi Bank.  Following the panel, Puneet Chhahira from Infosys Finacle, spoke about banking-as-a-service and embedded finance, and Alexey Sidorov from Denodo spoke on moving into data 3.0 with logical data management.
To explore Innovation for MENA Cards and Payments, we welcomed Abhishek Saha of Abu Dhabi Commercial Bank, Anand Sampath from First Abu Dhabi Bank, Eli Taranto from EQI Bank and Haroon Durrani from the Commercial Bank of Dubai.  Yasir Siddiqui from Snowflake took us through the Rise of the Data Cloud, where he spoke on how financial services can transform to meet tomorrow's opportunities, and James Harvey from Cisco AppDynamics briefed the audience on digitally transforming your banking enterprise using agile development, hybrid cloud environments & innovative integrated platform strategies.
Before closing for the day, expert speakers, Adnan Fasih of Habib Bank, Aleksandra Anna Krejewska of Rakbank, Imran Kannuti from a reputed bank in the UAE, Soumaya Hissoussi of Bank Lombard Odier & Co Ltd, plus Wan Norhaziki Wan Abdul Halim of Crédit Agricole CIB, UAE joined Dr Zakiya Abdul Samad, from the Heriot Watt University for the Islamic Banking panel discussion.
Our final speaker for the day was Deepak Arora, of Panamaxil (MobiFin), who shared his insights on lifestyle banking – the secret of building profitable customers.
Day 2 opened with two featured Fireside chats.  Mohamad Nazih Rashad of Abu Dhabi Islamic Bank and Dr Ullas Rao, from Heriot-Watt University considered the Digital Imperative for Global Trade Finance and we welcomed back Noman Rasheed, from Dubai Islamic Bank to discuss DIB's transformation journey to develop their data strategy with Bishu Panigrahi of IBM Consulting.
The first keynote presentation of the day was given by Motaz Ghazi, and Soren Benfeldt from Kyndryl who spoke about building the bank of the future:  unleash collaboration for core banking modernization.  This was followed by the Private Banking and Wealth Management panel, with input from Anand Krishnan of Emirates Investment Bank, Kaushik Kadayam of Standard Chartered Bank, Tomasz Bortnik of Citi Bank and Vickram Lal from Mashreq Bank where they discussed technology transformation redefining the value proposition of modern relationship management with Abhra Roy of Infosys Finacle.
Next up, Gaurav Mathur from Safegold shared his thoughts on the New Gold Standard – unlocking innovative revenue streams and engaging your digital customer.
IBM hosted a discussion on Hybrid Cloud Choices in the Financial Services Industry, where Ghazanfar Ali of IBM was joined by Sylvia Scheerová, IBM Power Services EMEA and Osama El Samadoni, of Guld Business Machines.  Before moving to the networking break, we invited Zsombor Brommer, of United Arab Bank, Abbas Bou Diab from BLOM Bank Qatar, Noman Chaudhary from Habib Bank and Abhishek Pratap Singh from the National Bank of Oman to share their views and expertise on powering intelligent risk, compliance, governance, fraud & audit with digital modernization & transformation with Andrea Gay from Boston Consulting Group.
After the morning coffee break, delegates reconvened for the Retail & Commercial Loans, Mortgages and Lending panel, featuring Mahmoud Ibrahim, Ajman Bank, Abdelrahman Ahmed, Arab National Bank, Rajeev Chalisgaonkar of Mashreq and Shaker Zainal from Emirates Development Bank who spoke about next-gen technology platforms empowering digital transformation and access to capital with Bhavya Kumar from Boston Consulting Group.
Dmitrii Ilonov from Data.AI shared his views on how traditional Banks are evolving to become mobile first, followed by a presentation on the practical outlook on blockchain technology for banking transformation given by Sunath Kolazhi from Settlement.
This led into the From CX trends to Metaverse & multichannel marketing hubs panel session, with Marcello Baricordi, from Strands leading the discussion, and panellist included Alex Bak from Commercial Bank International, Dongjun Choi from Rakbank, Mai Momani, Invest Bank, UAE, and Ernesto Giralt of Strands providing input.
We closed off MEBIS 2023 with a CISO fireside Chat, between Frida Kleimert, IBM, Abhishek Pratap Sing, National Bank Oman and Somnath Sarkar from Mashreq Bank.
The intensive 2-day programme was well received by over 400 senior bankers and fintech leaders from across the MENA region and the networking sessions provided the ideal opportunity for people to connect with industry leaders and share new ideas and developments.  
The event emphasized the fact that the banking industry is adapting and evolving to meet client expectations and how GCC-based banks are proving to be leaders in embracing new technologies and transformation for enhanced sustainability across the banking sector.
For more information, visit: mebis.me
About Expotrade

Expotrade is a global conference and event organizer with its head office based in Melbourne, Australia. Expotrade has delivered some of the largest, most successful B2B industry conferences and events in the areas of infrastructure, major projects, sustainability, technology & architecture. For over 10 years, our unique blend of knowledge, experience and flexibility has accomplished an array of consistently top-quality events. Today, Expotrade events enjoy such a distinctive edge, they are amongst the best patronised in the calendar.

For more information, visit www.expotradeglobal.com