"Non-fungible token" is often abbreviated as "NFT." A $1 bill is fungible if it may be used in lieu of any other dollar bill. A non-fungible token, on the other hand, is a single piece of digital property that cannot be exchanged for another non-fungible token. 
Here are some of the more fascinating NFT projects that we've come across in the last 12 months.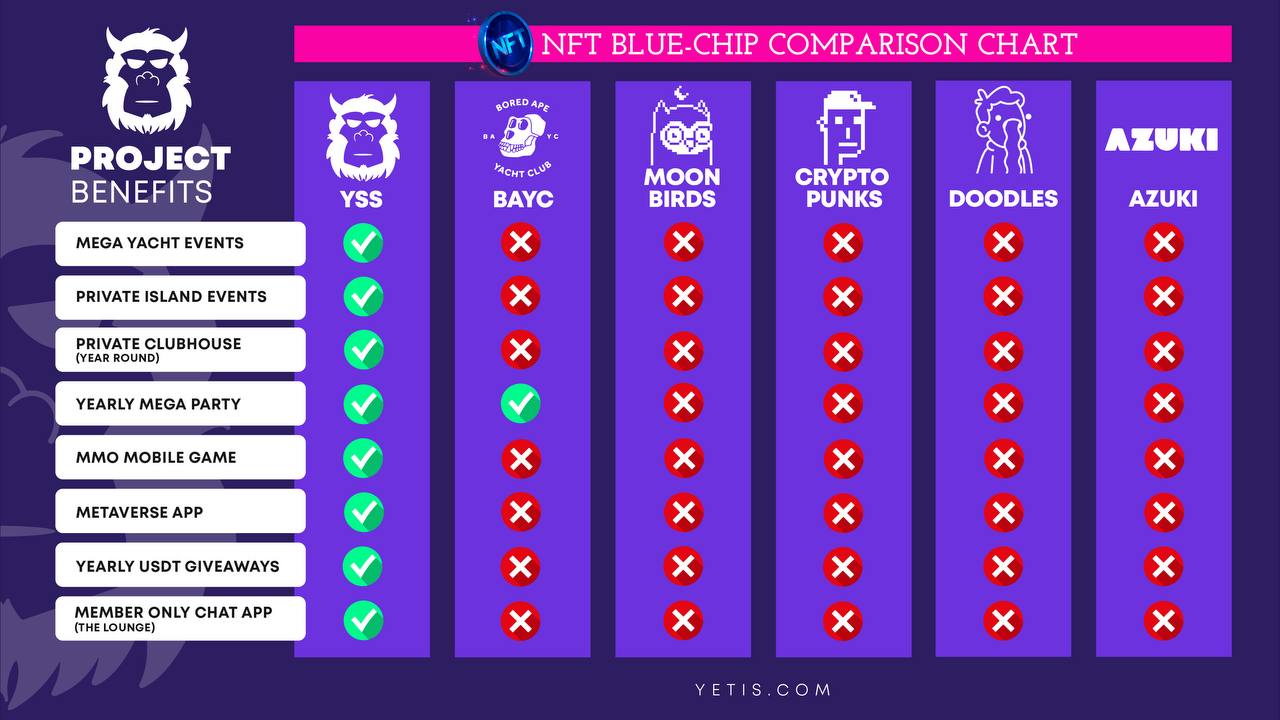 Yeti Secret Society
With the Yeti Secret Society, you'll have access to exclusive privileges. The team believes that in the realm of NFT, exclusivity is a strong commercial strategy. For investors, the idea of exclusivity is a natural fit since they consider the rarity of NFTs when deciding whether or not to purchase them. 
The founders of the Yeti Secret Society believe that the club's growing appeal is due to its exclusivity and uniqueness. 
The focus of the team's effort is a "Club." Everyone who has a Yeti NFT will be able to make use of this club's perks. 
There will be a boat journey to Monaco for 600 individuals as part of the project's unique offering from the club. A voyage from Nice to Monaco is scheduled for May 2023, according to the team. 
Parties and other events can be held on the team's islands for members and celebrities. 
With the help of Sapphire Studios, a team of MMO developers, the Yeti Secret Society, and Sapphire Studios are working together. Both an MMO game and Metaverse technology will be part of the project, thanks to this collaboration. 
In the past, the people behind this project have created a wide range of web-based projects. As a result, the folks behind the Yeti Secret Society have a wealth of knowledge in this area. Everyone may get a head start on this collection by joining up for pre-mint registration. 
Social media platforms such as Twitter and Discord are the most important ways the team communicates with its community.
Vee Friends
NFT's official website was the first place where the VeeFriends collection could be purchased. These NFTs have been offered on the secondary market since OpenSea, and other Ethereum-based NFT platforms made them available. 
OpenSea has started selling VeeFriends NFTs in an extremely successful manner. Everything is now done on the secondary market, as VeeFriends no longer provides these NFTs directly. 
The Ethereum blockchain contains all 10,255 of Veefriends' NFTs. Creatures are shown in diverse contexts and at varied rarity levels in each of these pieces of art. The rarity score of an item has a significant impact on the NFT's pricing. 
The NFTs developed by Veefriends have real-world applications. Each year Gary Vaynerchuk's Veecon Conference attracts thousands of attendees, including well-known business leaders. 
VeeFriends enjoys the support of a well-known entrepreneur. CEO and Chairman of VaynerMedia, Gary Vaynerchuk, also holds these positions at VaynerX and VaynerMedia. He has a well-deserved reputation as a cultural and technological avant-gardist. 
FlyFish Club
VeeFriends was only the beginning of Gary Vaynerchuk's inventiveness. An elite eating club for NFT members only, the Flyfish Club (FFC) is located in New York City. Flyfish New York City members will have exclusive access to a new dining space. 
According to the creators, it costs 4.25 ETH to join the Flyfish Omakase club. You will need to spend 2.5 ETH to join Flyfish with a regular ticket.
A table for up to eight non-token holders can be reserved by Flyfish members. The omakase section at Flyfish has a maximum capacity of one additional person if you have already reserved a table for the same number of people. 
Your subscription can be leased or sold at any time with an NFT membership. With Gary Vaynerchuk's track record of successful ventures, the Flyfish membership program is likely to see its value rise in the years to come (such as VeeFriends). 
Crypto Baristas
There were sixty coffee-drinking NFTs in Season 1 of Crypto Barista. The goal of the initiative is to aid with the construction and establishment of the first NFT-funded cafe in the world. 
If you are a customer of the Crypto Baristas, you are entitled to a lifetime supply of free coffee. Customers' money is invested in the company's own "Barista Bank," which has a 15% reserve fund. 
There are several more uses for the Barista Bank besides the Crypto Barista concept. 
This project aims to address the governance, community, and ownership issues that many NFT projects confront. Coffee-related activities benefit all token holders and allow them to vote on how the project is administered. 
It is the goal of Crypto Baristas to provide high-quality coffee while also supporting the coffee industry's producers and stakeholders to the best of our abilities. 
The second season will soon come out, and the market is sure to keep an eye on the project's progress.
Dribblie
The football management game Dribblie is a novel and entertaining method to earn cryptocurrency. Soccer players from all around the world may be found on Dribblie. Through this project, you may get money by taking part in the game of football. 
One of the NFT's primary goals is to implement deflationary policies. Asset values may grow as the NFT ecosystem becomes more deflationary. Deflation is created via the game's unique burning and staking method. 
If you're one of the numerous football enthusiasts across the world, Dribblie has created a whole ecosystem to help you make money doing what you love. 
A unique NFT is assigned to each Dribblie player. Among the unique characteristics of these NFTs are their outfits. There are benefits and drawbacks for every character in the game, regardless of whether they are Titans, Humans, Robots, or Aliens.
Users will be able to trade NFTs for in-game items on the Dribblie marketplace. Dribblie aims to keep transaction costs as low as possible in the crypto market, which is often plagued by hefty gas fees.