Here is a simple guide to TAGZ Exchange suitable for beginners and advanced traders that need to know the basics of how to register, how to trade on TAGZ and how to verify your account with KYC.
Is TAGZ the best Crypto Exchange?
Many traders are obsessed with the above question. Why wouldn't they be? After all, TAGZ is becoming extremely popular as a trusted exchange hub, which was first established back in March 2019.
TAGZ Benefits
Only 0.01% Trading Fees
Virtually fee-less exchange with absolutely no hidden charges or extra maker/taker fees
Quicker than NASDAQ
TAGZ has the Current world's fastest trade engine capable of 75,000 transactions per second
Custody Protection Guaranteed
Asset funds are kept in our cold storage custody solution preventing any malicious hacks
Is Tagz a Legit Crypto Exchange?
According to TrustPilot, almost 95% of traders are in love with TAGZ Exchange. Some even call it a trading platform of the current generation.
In addition, TAGZ is also fully licensed in Australia to operate as a Digital Currency Exchange. Therefore, there is no doubt to its legitimacy.
How does Tagz Exchange work?
Trading on TAGZ Exchange is as easy as breathing. Perhaps, that's why it ranks among one of the best crypto exchanges. If you're still struggling to use the TAGZ Platform, you may follow these simple steps:
Visit the TAGZ homepage. Click on the exchange hub button, which subsists on the top right corner of the screen.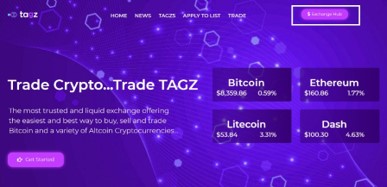 Abra ka Dabra! Here's a profitable den. You can analyze the market trends using real-time charts. Just select your preferred market pair from the find market tab.
Have you selected your preferred market? If yes, then scroll down a bit. You will find two things: buy and sell.
The price of the asset will be shown automatically. If you want to buy, you may enter the amount and hit on buy button. The same method works for selling as well.
What About the Fees?
TAGZ is known as the exchange hub of today's era. Why? Is there any specific reason for it? Of course, there is!
Many exchange platforms charge hefty fees. TAGZ trading fees are very minimal at only 0.01%.
Apart from this, they also charge a fixed withdrawal fee for each currency. You may see the fee chart here.
What Can You Trade on TAGZ?
TAGZ exchange policy is dynamic. Although you can check the acceptable currencies from the TAGZ Exchange Status page, we recommend you to stay up to date with all the latest TAGZ News on a consistent basis. It will help you to know about current updates.
How to Register on TAGZ Exchange?
Signing up on TAGZ isn't too complicated. Just follow these simple steps:
Visit the homepage and click on Exchange Hub button.
Now you will reach a place called nowhere. Just kidding! Hover to the right top corner and click on menu button.
Click on the register button. You will be redirected to the sign-up page.
Fill all the necessary details and confirm your email. This is it. You have successfully signed up on TAGZ.
Does TAGZ Exchange Require KYC Verification?
TAGZ strives to maintain all governmental policies and criteria. To achieve a good reputation and to gain user trust, they opt for the KYC (Know Your Customer) procedure.
TAGZ has divided KYC into 3 levels:
Level 1
A government ID and self-image – both are enough to verify for level one. The level 1 verification lets you deposit, trade, and withdraw money on the platform.
Level 2
To verify yourself as a level 2 trader, you need an address proof along with self-image and government ID.
Level 3
As the name suggests, this level makes your account restriction-free. You just need a high definition self-image, 2 government ID, and address proof.
Tagz Exchange Pros and Cons
Almost everything on earth has its pros and cons. Although TAGZ is one of the best crypto exchanges, there are still some cons. Take a look at this chart.
| | |
| --- | --- |
| Pros | Cons |
| Excellent Privacy Protocols | You can't buy IEO's |
| Low Fees | Policies may change anytime |
| Instant Withdrawals | Withdrawal fee is slightly higher than other exchange platforms |
| Heartwarming User Interface | No Live chat |
What Makes TAGZ Different?
TAGZ doesn't do what the majority of cryptocurrency exchange platforms do.
As you know, most cryptocurrency exchange platforms charge hefty fees. When it comes to TAGZ, they actually charge too little.
Although the withdrawal fee is more than the majority, it's still profitable.
How Can You Contact TAGZ Support Team?
TAGZ utilizes Zendesk to support its customers. There's no live chat feature on the platform. But still, you can fill in a support ticket.
People who have traded here often claim that the support team is friendly and professional and support tickets are answered with a quick turnaround.
The Verdict: Should You Trade on Tagz?
TAGZ is getting popular every day and from a user perspective, it may just be the best crypto exchange.
From low fees to fixed instant withdrawals, an impressive user interface to the excellent support team, privacy regulations to reputation – almost everything seems promising.