Cardi B's 27th birthday celebrations are on the next level, and she is living it to her best. Joining the club of 27 on Oct. 11, she received plenty of blessings from her fans for her birthday. Her sister, Hennessy Carolina, joined her on a trip tp Turks and Caicos.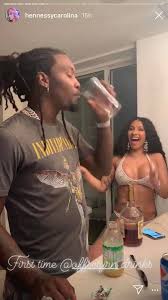 Her sister shared a video of her where Cardi can be seen dancing around a kitchen table covered with bottles of liquors, juice and cut limes. She was seen doing more than just twerking and expertly whining her hips to "So Mi Like It" by dancehall artist Spice. Cardi's sister was seen behind her in the video, who was also whining along to the music and sipping Don Julio 1942 tequila straight from the bottle.
What a craziness filled celebration it was!
https://www.instagram.com/p/B3nUTmqhtDS/?utm_source=ig_web_copy_link
The 'Money' rapper's rock-hard abs were on full display as she rolls her curvy hips wearing a white Louis Vuitton bikini. Cardi B, at the end of the video, was trying to get Offset's attention, where he appeared to be caught off guard by her antics. Fans had something to say on his reaction – "I love how to offset looked at Cardi like wassup baby but not surprised 'cause she just been herself."
JT Of City Girls Leaves Prison & Reveals A New Song is Coming
Before leaving for her Caribbean vacation, offset gifted her with a large Titanic diamond ring to make the milestone. Offset even posted a video and captioned it as, "Titanic Diamond. Happy birthday to my Queen. U deserve everything that comes your way, and I love you and our family together."
https://www.instagram.com/p/B3lLAaihcPz/?utm_source=ig_web_copy_link
The rapper also went to jeweller NYC's Pristine Jewellers who designed the gigantic ring and provided her matching diamond-encrusted gold chains and an anklet for her as well as for her adorable 1-years-old daughter, Kulture.
Cardi also posted a clip revealing her bikini-clad on Oct. 13. She captioned it, "Ride the D-K."
Kylie Jenner Goes All Stark-naked with her Boyfriend for Playboy
https://www.instagram.com/p/B3gzshqBWz4/?utm_source=ig_web_copy_link
She is enjoying her gala time with her closest people!