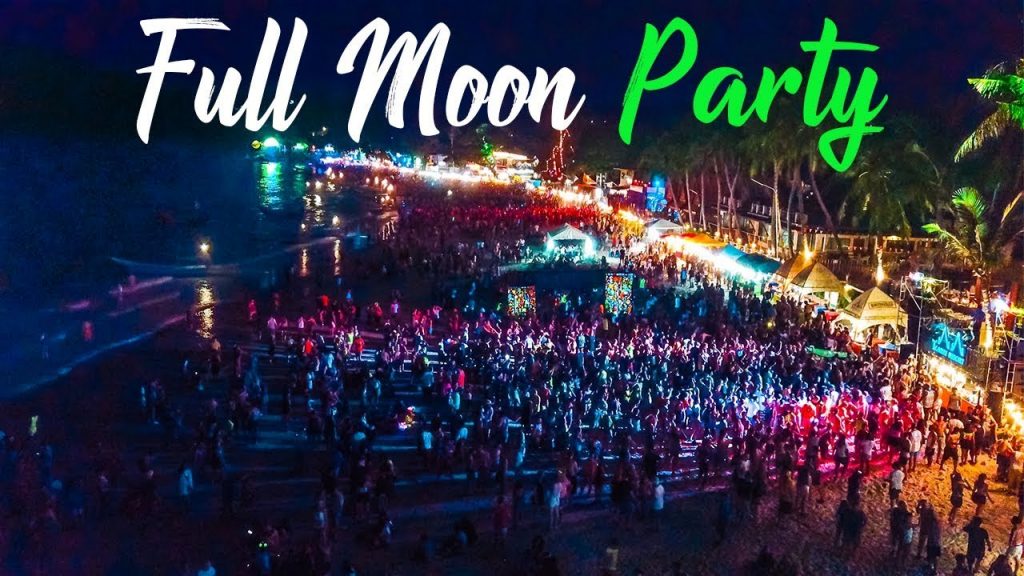 Thailand is a country where countless festivals and events happen every year and so in Koh Phangan – one of the islands of Thailand.
Koh Phangan is situated in the Gulf of Thailand very close to its sister island called Koh Samui (a big one) and Koh Tao (a small one).  There are so many things Koh Phangan is famous for but majorly for its nightlife. You will find the real breathtaking parties which would certainly be worth-remembering experience in your life.
Here is the list of things that are scheduled in Koh Phangan for October :
Full Moon Party


Well if we are talking about

Full Moon Party

then firstly I would like to tell you that half of the people who visit Koh Phangan is only for this exclusive party. Their second reason could be anything but the first reason for half of the tourists here is to attend this incredible party. It held every full moon night in Haad Rin beach in the south of the island. More than 30,000 people hit this party every month so you can imagine how big is…you may call it as a festival of Koh Phangan.
Full Moon Party is something which every traveler should add in his bucket list – For sure!
Half Moon Party


Half Moon Party is distinctly smaller than the Full Moon Party but we cannot deny its madness is as equal like the big brother. Half Moon Party often held in the middle of an island Koh Phangan's forest. This party is conducted by a private company called

Half Moon Festival

so you can guess that there will be an entry fee so be prepared for it! While this company has conducted this festival for a while now and till the date they have organized it very well as they are now experts. So if your dates are not falling for Full Moon Party then you could definitely plan for Half Moon Party.

Yoga Training day


Now we are taking a long jump from parties to peaceful yoga centers. If you are a yoga lover then there is something for you in the month of October. A

yoga teacher training course

starts from 1 October till 26 October. You can deepen your yoga skills practically, physically, mentally, spiritually. Or if you just want to relax through yoga then there are numerous yoga centers in the island. You can easily find the best for yourself. Koh Phangan is plenty with the delighted things, a little-little for every kind of people.
So now we have discussed all the things for October but I must tell you that this is not it. There are lots of happening things that Koh Phangan have. Like we said that this island has a little-little for every kind of people it's actually a lot for everyone here. From its beautiful beaches to parties, crystal clear blue water to the lake within the island, from waterfalls to wildlife sanctuaries and much more.