Ubique Chain of things is the advocacy and governing body of the UCOT ecosystem. The Foundation's mission is to assist its members in being prepared to meet the challenge of a whole new era of "Ultimate Supply of Every Chain, Smart Internet of Everything. An industry-wide supply chain system based on IoT, blockchain, 5G, AI, and big data. UCT is continuously working on these demanding products. UCT is continuously working on these demanding products. UTMS, UTracer, UCerti, UTracker, UPhoto.  Apps can easily be downloaded on IOS, Android through the website.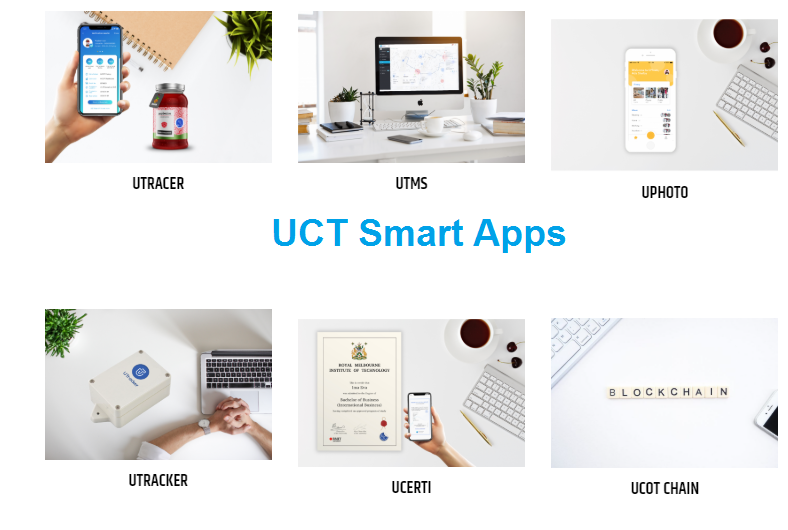 Smart Apps
UCT is working and solving problems of various industries with his apps of blockchain. It provides total supply chain traceability, enabling secure data acquisition, tamper-resistant storage, and trusted data sharing throughout the supply chain. Provides smart NFC tags to communicate with our 5G UTracker IoT devices and uploads product information directly to the blockchain, traceable, and tamper-proof. There is something more you should know about Smart Apps.

UPhoto
Uphoto is an innovative and revolutionary file manager based on blockchain technology, developed by UCT. The app makes use of blockchain technology's characteristic encryption to secure important electronic data and files such as web pages, photos, videos, documents, etc.

UTracer
The UTracer app is UCT's world-leading authentic traceability mobile platform built using a fusion of IoT and blockchain technology. All product information can be checked via the UTracer app or website (using NFC tags and/or QR codes) to monitor the product journey through supply chain circulation. Information and data include details about the origin, production batch, production date, traceability trajectory, etc.

Ucerti
UCerti creates new standards for certificate notarization and anti-counterfeiting. Each certificate under the UCerti program contains an NFC chip with a globally unique fingerprint. All electronic data is recorded on the blockchain for encrypted permanent storage and cannot be tampered with. In addition to the electronic data security, the chip is embedded in custom multi-layer security paper. The NFC tag differs from ordinary NFC tags in that it cannot be copied and upon physical tampering, it is destroyed. Users can verify the certificate anytime and anywhere along with other functions such as a quick and easy application for reissuing as well as support for multiple languages.

Utracker
UTrackers are leading precision monitoring and real-time data-uploading IoT devices that combine M2M (machine-to-machine) communication technology with 5G. The IoT device can detect temperature, humidity, acceleration, light intensity, and other environmental information, and upload it to the blockchain of the project in real-time through M2M communication technology

April- May 2020 Major Ecosystem Developments

1.Development of UTracer
Adjust the user logout function

API debugging

Optimized performance based on the results of docking and debugging
 
2.Development of APP Uphoto
Customized the watermark signature function and released it on both ios and Android platforms

Improved and optimized some Uphoto functions.

3.UCOT is officially invited to be a member of the Block Branch of China Electronics Association

4.UCOT (Ultra Goods Chain) is docking with multiple investors

5. Hubert Chu, co-founder and executive director of UCOT, was invited to speak at a closed-door seminar on global blockchain value and application.

6. UCOT (Unionchain) was invited by the 4th Future Network Development Conference Blockchain Forum


Exchanges- UCT is also listed on top exchanges where everyone can buy and Trade UCT tokens. UCT is continuously moving forward with new exciting things and providing his best to the community. UCT is listed on Bittrex and Bit-Z and now it's going on a new exchange Hoo.com.


Important Links
Website – https://uct.foundation/
Facebook – https://www.facebook.com/ucotoffical/
Twitter – https://twitter.com/UcotMedia
Telegram – https://t.me/ucot_official_international
YouTube – https://www.youtube.com/channel/UClY5BnITzqLxUTPYJ-WhrHw?view_as=subscriber