Smartsound Corporation, Healthcare Startup in Korea, who was awarded the 2019 GITEX SUPERNOVA CHALLENGE and Abu Dhabi Health Department Innovation Cup WINNER in Dubai with its core technology. Also, they will be exhibiting at CES 2020 in Las Vegas, USA to showcare the new pet healthcare solution, "WithaPET".
According to Pet Tech Market Forecast, this market will be reached more than USD 20 billion by 2025 due to pet owners investment for their pets' health, fitness and safety.
Moreover, many veterinarians think if pets have been ever in illness, it's helpful to be familiar with their vital signals. Learning and understanding how to regularly check and monitor the normal pet's vital signal is a precise and smart way. So they recommend pet owners to check the following three main vitals at home periodically.
1. Heart Rate
2. Respiratory Rate
3. Body Temperature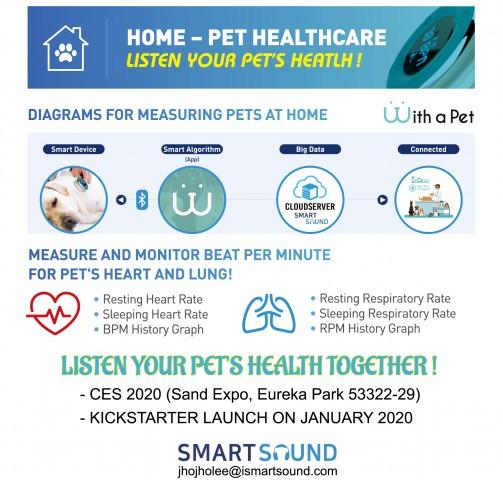 How to check those three main vital signals at home? As of now, for checking heart rate, pet owners use their fingers to check the pet's pulse and count. Also, for checking the respiratory rate, pet owners should wait until the pet is sleeping quietly or resting calmly, then use your watch or phone to time 1 minute and count how many breaths occur in 1 minute. One breath is counted when the chest has moved in and out once.  However, it is not accurate enough and there is no device to check and listen to these vital signals so far. Current home-based pet healthcare devices check their exercise amount, location and fitness.
WithaPET is IoT based smart healthcare device for a companion animal, which can check a pet's health condition (Heartbeat & Respiratory) with a simple device and smartphone application. The reason why Smartsound has developed this solution is that Smartsound teams think "there are so many pets have died undiagnosed diseases at home. The early warning sign is everywhere, as long as pet owners can listen to pet's health sound. So with this device, we want to let pet owners find the early symptom for a pet health condition to prevent chronic diseases."
With this device, Smartsound will start a KICKSTARTER (Crowdfunding) Campaign on January 2020. CEO of Smartsound said the campaign is "not just for crowdfunding, it's about finding the right customers and providing our new healthcare device to improve our healthcare solution."
Media Contact
Company Name: SmartSound Corporation
Contact Person: Jungho Lee
Email: [email protected]
Phone: +821092702720
Country: South Korea
Website: www.ismartsound.com