While the game created a huge hype, Signing good players on the FIFA 20 is not a cheap task. The players gamers get at the beginning are quite frankly far from their dream team, and FIFA is and always has been about creating that dream team. These A-Listers don't come cheap and require a really long time before anyone is able to buy them off.
Cristiano Ronaldo has been the face of the game for a long time now and has managed to maintain his top position in the league of A-Lister. He is obviously one of the top-rated players in FIFA 20.
While the developer of the game, EA, lost its rights to the Juventus, the top apex player Ronaldo saw a drop in his rating from 94 to 93, which made Lionel Messi the apex player in the game with the highest rating. However, Juventus is still available in the game with a different name, Piemonte Calcio, a different stadium, badges, and kit. But all the players remain identical with the same face scans and attributes.
In-game cost of Cristiano Ronaldo in FIFA 20
Ronaldo, in the game as I mentioned before, won't come cheap, like his real-life version. The cost to have him on your team from anywhere is below £100.
Valued at £52.7m, don't expect to obtain him for an amount this meager. Piemonte Calcio will willingly sell him to you for a negotiable price of £90 and might go down to £85. Further, he will expect to receive a weekly wage of £ 360k-£300k.
In-game Rating of Cristiano Ronaldo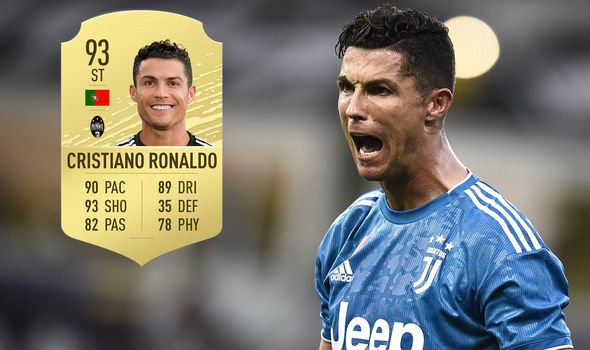 Now, you would like to know what would you get after spending a notorious amount of hours playing and spending real money to accumulate that load of in-game credit one just one player.
Will, rest assured its all worth it. The game rates Ronaldo at 93, who is only second to Lionel Messi rating-wise. This rating is lower as compared to his rating in the FIFA 19, which was 94.
Ronaldo had a record high rating of 95 in FIFA 13, which is the highest rating ever given to a player in any version of the game.