Agent 47 is known for his enigma, brain-teasing, and yes, his disguises. And which festival can be better suited for 47's re-arrival than Halloween itself? And this time Halloween is going to be bloody as 47 plays trick or treat.
The first event starts today with the 'Riviera Restoration' escalation contract. Then will come the three-part escalation contract in Mumbai, The Divine Descendance, on the 10th of October. These missions should get yo the Imperial Classic with Gloves outfit. Then on the 11th of October, The Warlord will return as the only Legacy Elusive Target of this month.
Then finally, Agent 47 will reveal his spooky side as the event start for a blood-red Halloween this year on the 17th of October. IO Interactive will be releasing Halloween themed community-created contracts.
Submission for the contracts will end on the 14th of October. Unfortunately, IO has not yet revealed what it has in stores for the gamers in The Halloween Escalation Contract, which will be coming on the 22nd of October. And here's some good news… this contract, The Halloween Escalation, is a permanent one, and the gamer can play it whenever they want.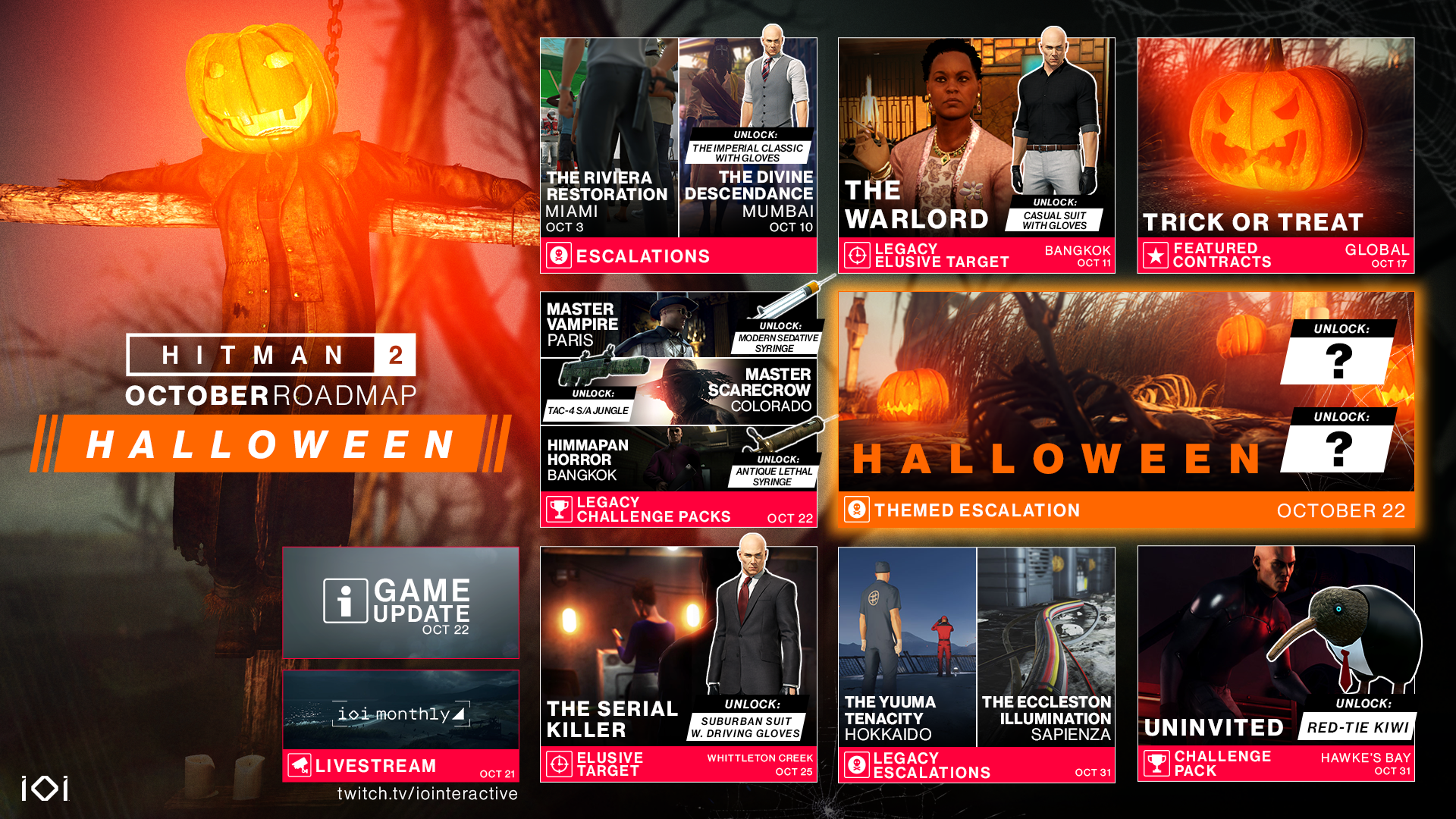 "The October Roadmap for HITMAN 2 brings a new Halloween mission, a brand new Elusive Target and more unlocks than ever before!
All of this month's content is themed around Halloween; from the Serial Killer Elusive Target in Whittleton Creek, to the return of Legacy Challenge Packs and Escalation Contracts – as well as a new Challenge Pack! It's all happening in HITMAN 2, and you're invited to a full month of content!" says IO interactive.
The 25th of October will bring Figures (47) face to face with a serial killer in Whittleton Creek as an Elusive Target. Then will come the Hawke's bay challenge pack on the 31st of October.
Time will reveal more details, but for sure, this one's going to be a hell of an event.